2022 Lent Devotional – Day 34
God walks with us in our struggles
Shadrach, Meshach and Abednego replied to him, "King Nebuchadnezzar, we do not need to defend ourselves before you in this matter. If we are thrown into the blazing furnace, the God we serve is able to deliver us from it, and he will deliver us from Your Majesty's hand. But even if he does not, we want you to know, Your Majesty, that we will not serve your gods or worship the image of gold you have set up." – Daniel 3:16-18 (NIV)
Shadrach, Meshach and Abednego (Hananiah, Mishael, and Azariah) were not ordinary people. They were Hebrew slaves who had been chosen to be brought to Babylon by King Nebuchadnezzar. Here they were educated in the Chaldean culture and had risen to high office under the King, overseeing the province of Babylon.
Nebuchadnezzar built the tall statue of gold representing the power and glory of Babylon and commanded that people should bow down and worship the image each time they heard the sound of music. Those who disobeyed were liable to be punished with death by being thrown into a blazing furnace. The pressure to conform would have been very real for Shadrach, Meshach and Abednego. They had the option of keeping their beliefs private and do what was required just for the sake of keeping their lives and jobs. But they decided otherwise. Even though they were contributing to the building and progress of the Babylonian empire, they knew that they could not compromise when it came to their worship. Only God deserved that.
The pressure to conform is also very real in our age. The culture we live in dictates the way we must walk and many of us do without any regard to how our walk should be in the light of God and His Word. Sometimes it is very difficult to tell the values of priorities of Christians apart from the rest. They all look the same.
Soon, Shadrach, Meshach and Abednego, were brought to the King who gave them one last chance to conform to his command. But their bold answer in Daniel 3:16-18, tells us a lot about their faith and conviction. They believed with all their mind that God was able to save them and were confident that He will deliver them from what was sure death according to common sense. But in case God did not come through, they said, they will still not defy His standards or commands. In other words, they will continue to stay faithful, even if their faith is not rewarded by God's intervention into their seemingly hopeless condition. They knew that they will be delivered from the King's hand whether through a miracle or through death but ultimately they knew that they belonged to God and wanted nothing else but Him.
Contrast this with the many complaints that we have heard or even made ourselves. "I prayed and fasted and kept myself from sin. But God did not listen to me. He did not answer my prayer in the way that I had asked for." Do we want God for His sake or for the things that He can give us? What do we truly desire?
King Nebuchadnezzar, when looking into the fire where the three men were thrown, marveled that he saw them walking unharmed, when those who had gone to throw these men into the fire had been burned to death by the furnace which was heated seven time more. He also saw a fourth person walking with them and said that he looked like a son of the gods. He later calls the fourth person, the angel of God. We know who it was who walked in the fire with Shadrach, Meshach and Abednego. We know His name – Immanuel – God with us.
So let us remember this lent, even as we sometimes walk through fire, that God walks with us in our struggles. That He is able and will deliver. But even if He does not, we still belong to Him and will be with Him forever. He has promised, "When you pass through the waters, I will be with you; and through the rivers, they shall not overwhelm you; when you walk through fire you shall not be burned, and the flame shall not consume you."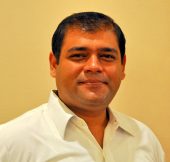 Rev. Vijayesh Lal