National Day of Prayer – 15th August 2021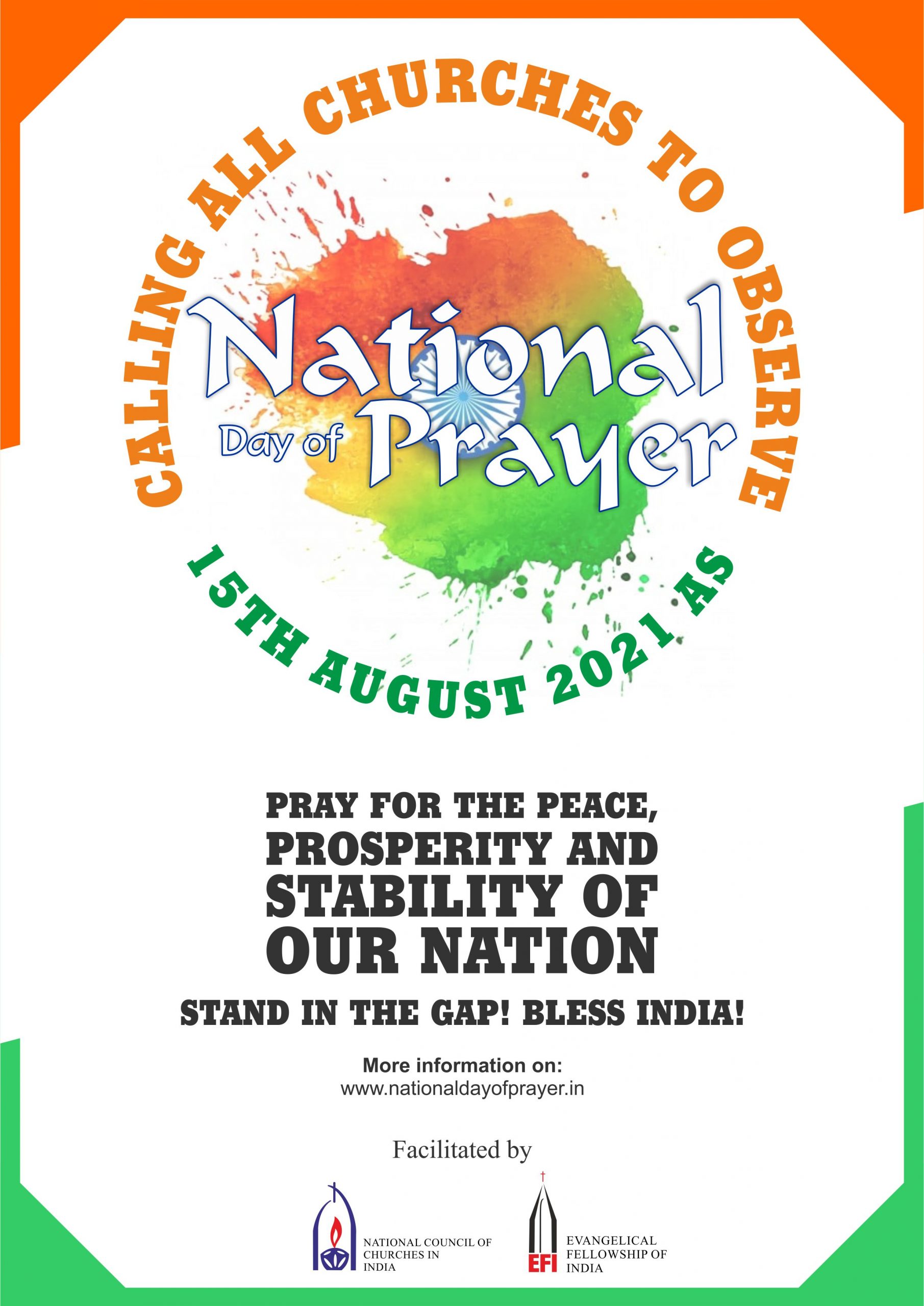 This is the confidence we have in approaching God: that if we ask anything according to his will, he hears us. – 1 John 5:14
Greetings in the precious name of our Lord and Saviour Jesus Christ,
God loves the nation of India and is at work in it. The Church has been called to pray and work for the peace, prosperity and stability of the nation. The state of our nation and the challenges it faces, stirs us to look to the face of the Almighty God and to pray for God's unceasing blessings on India.
The National Council of Churches in India and Evangelical Fellowship of India are jointly facilitating the observance of the National Day of Prayer on 15th August 2021 across India to earnestly intercede for our country, our leaders, and our fellow citizens.
An appeal is being made to all Churches, Prayer Movements, Christian organizations, and individual Christians across denominations, to observe 15th August 2021, which is a Sunday, as a day dedicated to prayer for the well-being, peace, and prosperity of our country.
The National Day of Prayer campaign started in 2017 with the Evangelical Fellowship of India humbly initiating it. EFI Member Churches and Bodies resolved to observe the National Day of Prayer annually on the Sunday closest to Independence Day of India. Since 2019, the National Council of Churches in India has also endorsed the same and now the NCCI and EFI jointly facilitate the National Day of Prayer.
The National Day of Prayer is envisioned as an ecumenical movement, freely owned by all and requires our united efforts which undoubtedly will promote unity and revive our witness and service by the grace of God.
In order to achieve this, we seek your support in disseminating this information to your churches to be a part of this initiative. We request you to please endorse this call to prayer and if possible, send us a statement or a short video from your side, which we will feature in the communications and website for the event. Emails can be sent to mail@nationaldayofprayer.in
Resources for the National Day of Prayer can be downloaded from the website: www.nationaldayofprayer.in.
With warm regards,
Rev. Asir Ebenezer                                                                                 Rev. Vijayesh Lal
General Secretary – NCCI                                                                       General Secretary – EFI