International Day of Prayer for the Persecuted Church 2019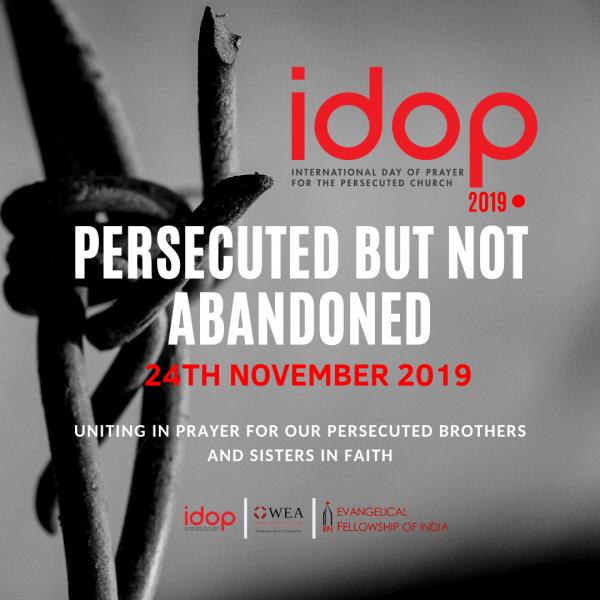 Greetings from the Evangelical Fellowship of India,
We would like to invite your participation in the International Day of Prayer for the Persecuted Church (IDOP). IDOP gives us the privilege to join with over five lakh churches in 150 countries to pray for the persecuted church every year. An initiative of the World Evangelical Alliance, IDOPs are promoted in India by the Evangelical Fellowship of India, as days of intercession for persecuted Christians worldwide.
Across India, there is a rising intolerance towards missionaries, pastors, and priests and violence against Christians have resulted in loss of lives, livelihoods and property. Various rights based organizations have documented over 250 incidents of violence and hate crimes against Christians in India this year till now.
IDOP is an occasion set apart for us to remember thousands of our Christian brothers and sisters around the world who suffer persecution, simply because they confess Jesus Christ as Lord. The primary focus is the work of intercessory prayer and citizen action on behalf of persecuted Christian communities. We also encourage prayer for the souls of the oppressors and the nations that promote persecution, and those who ignore it.
EFI recommends that Churches observe IDOP as part of their Sunday worship services by dedicating an extended time to pray especially for the worldwide persecuted Church. We also recommend that special IDOP services may be organized by interested Churches, organizations and individuals on 24th November 2019, to raise prayer for the persecuted Church all through the nation.
Resources to help you observe IDOP are available and can be accessed at the website (www.idop.org). You can also visit our website (www.efionline.org) and connect with us at our Facebook page (https://www.facebook.com/EFoIndia/).
We hope and pray that you would support and organize this important event in your Churches, house groups and organizations and pledge your encouragement and support for the persecuted Church through intercession and prayer.
We request you to let us know as to how you observed the IDOP in your Church, local group or organization and how were you blessed through it. Please feel free to send us updates and photos on mail@efionline.org.
If you wish to strengthen the hands of EFI in providing help and advocacy to and on behalf of the victims of persecution in India, please do consider partnering with us financially.
Warm Regards,
Rev. Vijayesh Lal
General Secretary