Statement from EFI's National Consultation 27th & 28th June 2019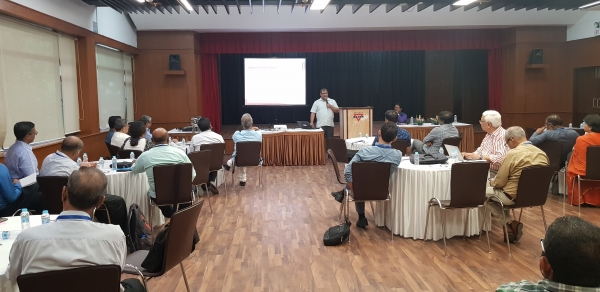 Consultation, National Consultation, Public Affairs, Public Policy
YMCA, NEW DELHI, 27 & 28 JUNE 2019
Preamble
India has changed decisively, and this was evident from the results from the recent elections, April-May, 2019. We find ourselves living in a period of historic transition that presents a great challenge especially to the Christian church. We, as leaders of Christian communities, churches, institutions and organizations, met in New Delhi, on the invitation of EFI, to reflect on the changes that our nation is going through, to draw closer to God in united prayer so that our paths will be directed by Him as we strive to minister in our land. We are persuaded that faithfulness to God and His call to us to be salt and light to our generation means to believe that God is Sovereign over the nations, and He directs the rulers to fulfill His purposes of Justice and righteousness; and to us as His people to bear witness to His character.
Therefore, we share with all, this report on our deliberations and recommendations from two-day consultation in Delhi on the 27th and 28th June 2019.
We met to (a) analyse how we should prepare for future, (b) to consider the draft National Education policy and to identify how it affects us as Christians, individuals and leaders of educational institutions, (c) to work towards excellence and best practices in financial accountability in Christian NGOs and (d) design ways to revitalize mission, reimagine church and theological education in order to increase our influence and impact.
We recommend
1.We were reminded that in the changed scenario, for the majority party in power in the Centre, religion and not development is going to be the essential framework of political engagement. Every action, though words may point elsewhere, will be in order to drive the nation towards a primary identity of Hindutva. Therefore, we recommend, the development of Biblical political and public theology that would help us draw a road map for political and public engagement of the church.
2. We therefore recommend that not only a sound Biblical political and public theology is to be put in place but a detailed plan of action for Christian political and civic engagement be developed by a task force. The plan should spread awareness down to the local church, build capacity to promote civic participation (in and with all communities) and rapport with political leaders, influencing (mentoring) them in godliness and righteousness so that they frame righteous policies and laws.
3. Creation of an apologetic platform to defend and clarify Christian position in various Christian issues. We endorse gladly the announcement of the formation of EFI Center for Public Affairs, Public Policy & Research that would facilitate consistent deeper reflection on these issues, identify and encourage involvement of Christian voices in civic initiatives.
4. With gratitude to God for the growing church in India, we recommend, not out of guilt or fear, despite the truth that persecution will not decrease, that the Church should become more people-centered, equipping front-line disciples both with message and vision and relevant in mission (building gaps and building bridges). We recognise the big gap in pastoring the masses, the people are like sheep without shepherds. We recommend a perspective of pastoring that move beyond the congregation to the community. We are aware that the Church needs to model the Kingdom of God, through its reconciled relationships, and so we recommend that we, as members of the church, review our methods of mission, communication of the message and upholding the incarnational life-style of Jesus.[1]
5. We recognise the need to encourage discipleship and leadership development and therefore recommend that we introduce various styles of leadership that are relevant and sensitive to all age groups. We recommend development of leadership that would help the church to be strongly grounded in the Scripture, outward looking, indigenous in governance, worship and management of local resources and equipping the laity and united in engagement.
6. Out of our consideration of the draft NATIONAL EDUCATION POLICY (on which the Government has invited the views of the public by July 31st, 2019), we recommend that churches and church related educational institutions, families and individual Christians study the document and send in their responses to minister.hrd@gov.in. We are concerned that the policy will affect our children and the character of the nation. It was felt that the new educational policy takes away the constitutional rights and protections provided to minority school and colleges. This may lead to closure of minority educational institutions. Concern was expressed that the immediate closure of independent B. Ed colleges will result in a huge shortage of teachers. These are a few concerns but there are many more and we recommend an educated and informed response be sent to the government.
Conclusion
We bring these recommendations with a deep sense of responsibility, humility and concern, realising the urgency of this moment in our nation, knowing that the polity change can be irreversible if civil society, religious, ethnic and other groups cease to be vigilant in persevering the diversity that guarantees India's republic and democratic character and structure.
---
[1] A helpful document and resource: Christian Witness in a Multi-Religious World. The Pontifical Council for Interreligious Dialogue (PCID), the World Council of Churches (WCC) and the World Evangelical Alliance (WEA), met during a period of 5 years to reflect and produce this document to serve as a set of recommendations for conduct on Christian witness around the world. It was released in 2011.
https://www.oikoumene.org/en/resources/documents/wcc-programmes/interreligious-dialogue-and-cooperation/christian-identity-in-pluralistic-societies/christian-witness-in-a-multi-religious-world