Member Churches of the Evangelical Fellowship of India (EFI) observed a Day of Prayer for the nation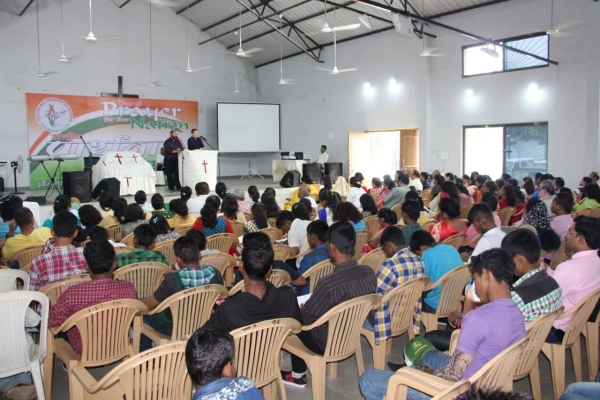 New Delhi (AsiaNews) – Member Churches of the Evangelical Fellowship of India (EFI) observed a Day of Prayer for the nation yesterday in several places across the country.

The goal was to come together in prayer because together the current situation can be changed, two clergymen said in a video-message.

Speaking to AsiaNews, EFI General Secretary Rev Vijayesh Lal said that his organisation launched the National Day of Prayer last year and chose the "Sunday closest to our Independence Day" for the event.

The latter provided an opportunity to pray "for the victims of hate crimes in India" as well as "for the Church to stand strong in the face of opposition."

Hundreds of Christians responded to the EFI appeal and joined the gathering. On the EFI's Facebookpage, photos of activities held at a local level were posted.

The Churches that took part include those in Nagpur and Latur (both in Maharashtra), Guwahati (Assam), Damoh (Madhya Pradesh) and Chandigarh.

"Thanking the Lord for the wonderful Christians in India. Praying for their country and freedom to worship without fear will prevail," wrote a Christian in a post.

The appeal of the Protestant group comes at a critical time in India's history. Next year the country goes to the polls to renew the Union parliament and political parties are already stomping the ground in a hotly-disputed campaign.

In recent weeks, Christians have been targeted by Hindu nationalist groups who would like to impose their religion throughout the country. Their actions include shutting down schools and NGOs.

Hindu extremists have not spared bishops, accusing some of them of plotting with the Vatican to impose Christianity.

Speaking on behalf of his community, Rev Vijayesh Lal called on everyone to share the message of peace in all the churches of India.

"Let us give thanks to God for our beautiful country and our fellow citizens. Let us also intercede for the needs of the nation and the issues it faces. God loves India. Let us stand in prayer and bless our dear nation," Rev Lal said.